Students had the opportunity to connect with leading sports media professionals at the 11th annual Sports Media Summit, hosted by the Claire Smith Center for Sports Media at Klein College of Media and Communication.  
"I am so happy to have a rich mixture of collegiate and high school students who are considering, or who have already made the decision to join this wonderful college," said Claire Smith, co-director of the Claire Smith Center for Sports Media. 
The Sports Media Summit invited both current and prospective students to listen, learn, and ask questions to professionals in the industry. Keynote speakers Jemele Hill (she/her) and Max McGee, KLN '15, (he/him) talked about the importance of confidence and hard work.  
Max McGee is a SportsCenter anchor at ESPN, and the journey to getting to this point in his career was not an easy one. McGee recounts his time working as a busboy at Famous Dave's Bar-B-Que in New Jersey and filling out applications while he was working. After applying to over 255 jobs, he started his career at KPLC-TV in Lake Charles, Louisiana in 2016.  
"I was leaving my comfort zone for a place I thought was on a different planet," said McGee.  
Moving eleven hours away from his family to Louisiana was difficult, but McGee says that this was the right decision for him. He encourages students to step out of their comfort zone and go after their career goals. 
"Don't have a backup plan," said McGee. "Go after what you want."  
After working at KPLC-TV for almost a year, he accepted a job as a weekend news anchor at WMBK-TV in Myrtle Beach, South Carolina, then at WJZ-TV in Baltimore. This helped him work his way up to be a SportsCenter anchor at ESPN in January of 2022.  
Sending a message on LinkedIn to ESPN executive was the start of McGee's journey at the network.  
"I just asked him 'are you having any auditions?'" said McGee. "About two to three months later I got a call from some random number as I was walking around in New York City… thank God I answered the phone."  
Even during hard days, McGee makes sure to take things one day at a time. He has a theme for every day of the week, including "By any means Monday" and "Finish Fridays" to help him put one foot in front of the other and finish the week strong.  
As a Klein alum, McGee says his time at Temple helped him learn key skills that helped him in his career. WHIP radio helped him learn how to produce his own scripts and topic segments, while also helping him find his voice.  
McGee's advice resonated with senior journalism student Emilie Cochrane, who is a reporter and anchor for Owl Sports Update, a student-run sports television show at Klein College. She also cohosts Courts in Session, a live, 30-minute basketball show, and said McGee's words inspired her to persevere in her own career journey.   
"His advice is amazing," said Cochrane. "Just looking for smaller jobs in smaller markets is tough and just to hear how everybody goes through it is something eye-opening and really relieving at the same time."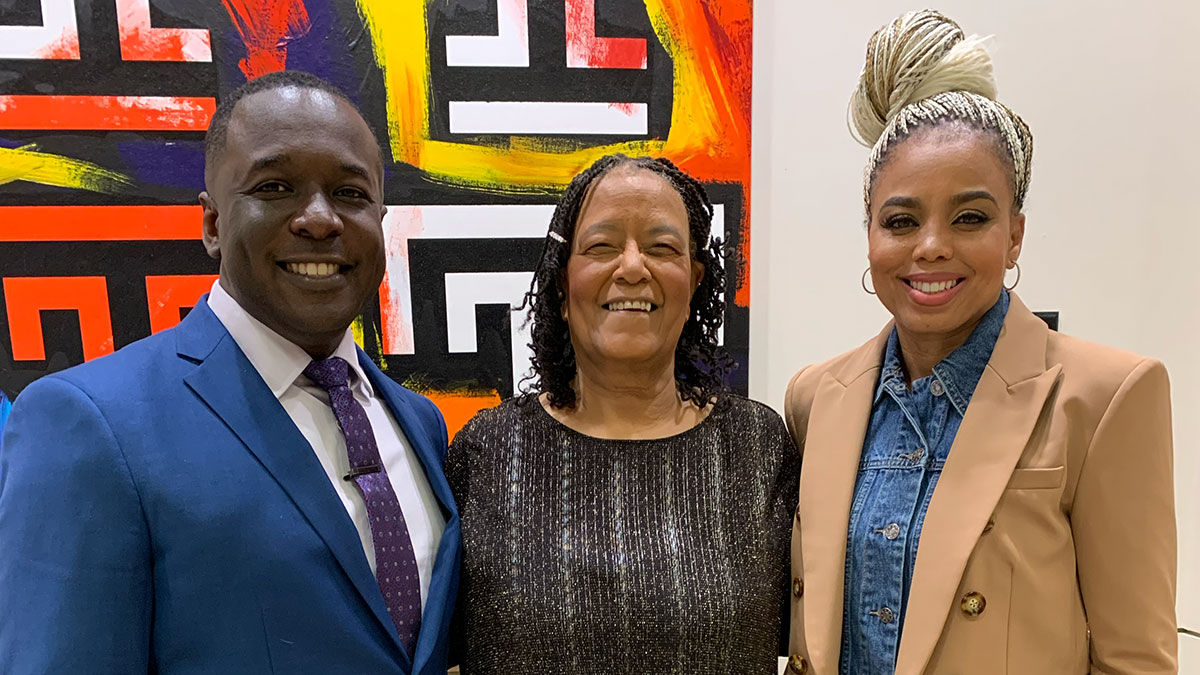 Award-winning journalist Jemele Hill was the closeout keynote speaker. Her first job was at News & Observer in North Carolina, and then she moved on to be a columnist at the Orlando Sentinel. This step in her career eventually landed her a job at ESPN after a series she started at the Sentinel went viral.  
"The moment I stepped into a professional newsroom, I knew this was what I wanted to do," said Hill.  
Hill has been a working journalist for more than 25 years and says that her confidence developed over time as she progressed in her career. After 11 months, Hill quit as a SportsCenter anchor due to different values with the company's culture and creative issues. Hill encourages people to know themselves before they enter the workplace and stay true to their values.  
"You can't let the place you work at change who you are," said Hill. 
Jemele Hill is now a contributing writer for the Atlantic and has a memoir, Uphill, discussing her tough childhood in Detroit, which she says gave her the confidence she needed to overcome challenges. Students had a chance to get a signed copy of Uphill at the event.  
"Every job I have right now is a job that I want and not a job that I need," she said.