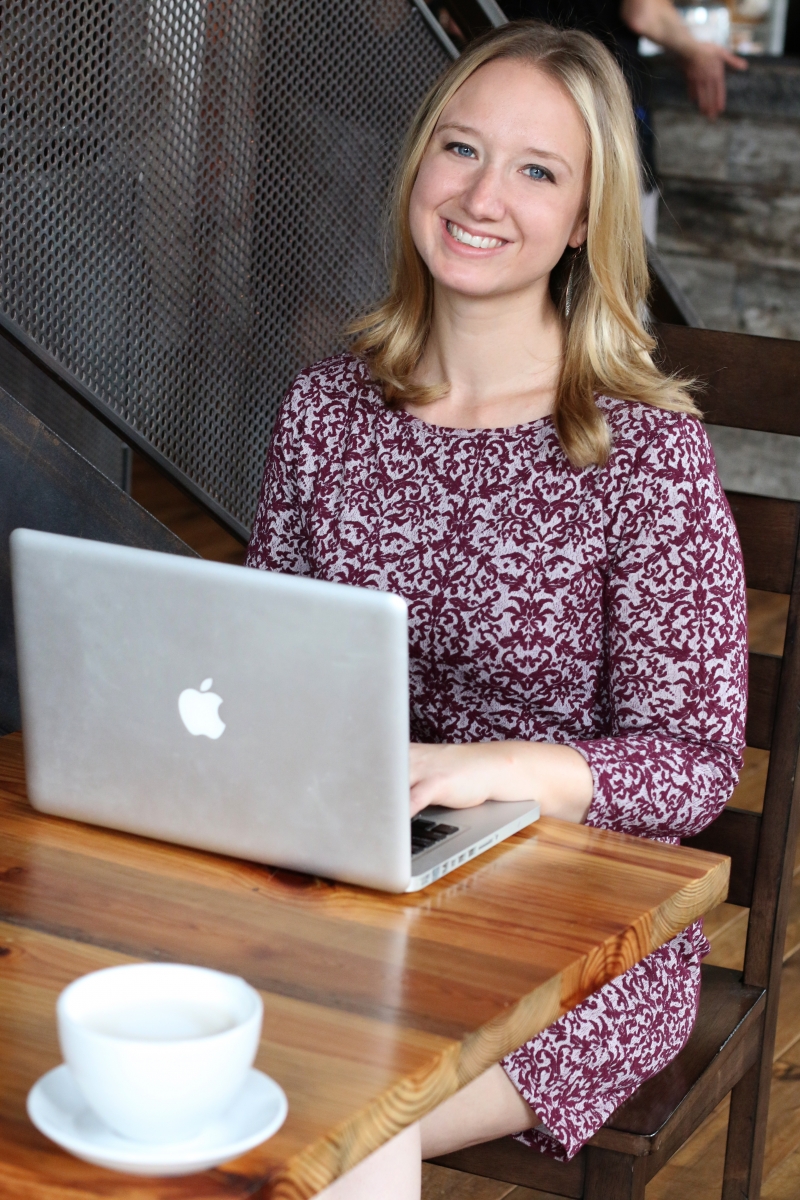 In the midst of driving to a work meeting, Jessica Lawlor, 29, received a frustrating call from her boss, leading her to what she calls her "defining moment."
After she hung up, she called her best friend to vent about the job she didn't want anymore. 
"Jess, what are you doing?" her friend Julia asked. "Quit your job, you can do this."
This pushed Lawlor to walk away from her job as communications manager in February 2016 and start Jessica Lawlor & Company, LLC (JL&Co).
"I had always thought about potentially quitting my job to start my own business," said Lawlor. "I just didn't think it'd be this early on in my career."
Upon graduating from Klein College with a degree in Strategic Communication and a concentration in Public Relations in 2010, Lawlor, found her post-grad life to be less exciting than her hectic college schedule.
As she was growing her career, Lawlor started what she refers to as a "side hustle"—her blog, "Get Gutsy"—which led to the change in career paths she didn't see coming.
Having undergone significant weight loss and a personal transformation, Lawlor said she wanted to start a blog to share her story about getting out of her comfort zone, and inspire others to do the same. "That's where I developed this idea of getting gutsy, which I define as getting out of your comfort zone to help you live a better and more happy life."
The idea of her blog has evolved over time, now focusing on her business, JL&Co, but it still revolves around the original idea of stepping out of her comfort zone every day.
Once she began publishing the blog, a variety of people and companies began reaching out to her for services. "I didn't realize all these great opportunities were going to come from just having a blog," said Lawlor. Muckrack was her first client and remains one today.
Lawlor said she was able to create her own career by combining all of her passions—blogging, public relations and content management—into services she provides at JL&Co.
Lawlor says that her journey down the road of entrepreneurship has been terrifying, but in the most exciting way possible.
She said she owes a lot of her success to her time at Temple, where students are encouraged to create their own career path. "Temple really encouraged me to embrace all these differents interests that I have," said Lawlor.
During her time at Klein, Lawlor left quite the footprint, co-founding the university's student-run PR firm, PRowl, acting as Public Relations Student Society of America (PRSSA) president and as a member of the Alpha Epsilon Phi sorority. As a Temple alumna, she continues to make her mark. Since her graduation, she founded the Temple Women's Network and served as the organization's president for the first three years—recently passing the torch to fellow Klein College alumna, Alex Crispino.
Brian Hart, a fellow Klein College Strategic Communication 2012 graduate, also started his own business.
Hart, 30, found himself in a post-grad sales position despite his feeling that he belonged in PR. So, just like Lawlor, he began his own PR "side hustle," which provided him the experience he needed to land a job with a large financial public relations agency based out of New York and New Jersey called JConnelly, Inc.
"I knew that public relations and digital marketing wasn't something I just wanted to do part time, I wanted to make a full career out of it," said Hart.
During his time spent at JConnelly, he quickly got promoted while sculpting his vision for his own public relations and digital marketing firm, Flackable.
The spark of inspiration for Flackable was unlike anything he's ever experienced, Hart said. "I had to sleep with a notepad next to my bed because I would wake up with thoughts and ideas racing through my head and I had to get them all down on paper," said Hart.
After sitting on his new business plan for a few months, Hart was contacted by a company called Miracle Mile Advisors, a wealth management firm based in Los Angeles, that was seeking a new PR representative. Hart saw this as the perfect opportunity to secure his first client for his new company. "So I went in, quit my job, and potentially jumped off the cliff and I went for it."
For the first few months, he operated out of his mom's basement, "as many great startups do," said Hart.
Flackable has recently moved its office to Philadelphia and is now based in the Rittenhouse neighborhood offering services in public relations, digital marketing, content development and web design to its growing, nationwide client base.
Hart's initial risk has paid off in many different ways. Flackable has been recognized by a variety of different publications, including The New York Times and AdWeek, and Hart himself was even recognized as an emerging communications leader by Adweek in its annual PR Industry 30 under 30 list in 2015.
Just like Lawlor, Hart explained that he owes a lot of his success to his time at Temple.
"I could have never done it without the experiences, the people I met and the education I got from Temple," said Hart. "None of this would have been possible."
Hart explained that students are surrounded by so much culture on Temple's campus, as well as many new ideas and Philadelphia attitude. These factors gave him the confidence to run a successful business, he said.
Lawlor and Hart are just two examples of successful Klein College entrepreneurs. "When it comes to entrepreneurship, don't allow fear, risk, or any inhibitions to hold you back," said Hart.
A Kauffman Foundation analysis recently found that entrepreneurship is growing among women and millennials like Hart and Lawlor.
"I think that students and young people are smarter than ever," said Lawlor. "We're figuring out what we want a lot earlier."