Col. David Apt,  KLN '86,  has led a life of service, beginning with his military career in the 1970s. Since then, he has found numerous ways to connect his passion for the military with his Temple broadcasting degree.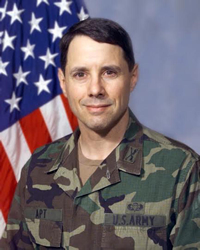 Initially, Apt planned to attend Drexel University on an ROTC Scholarship. Shortly after he accepted, he was offered a nomination from the West Point Military Academy. While he preferred to attend West Point, the school was unable to offer him financial assistance because he had already accepted Drexel's offer. So Apt took a different path. He enlisted in the Army and completed training at Fort Dix, New Jersey to play football. This allowed him to go West Point where he pursued a bachelor of science in engineering. 
"We're put on Earth for certain things and certain things happen for certain reasons," Apt said. "I had a lottery number of 'two' for the draft, so I knew I would be in the military in some shape or form."
After graduating from West Point in 1976, Apt was moved to 24 different locations, starting with the Armor Officer Basic Course in Fort Knox, Kentucky. In 1977, he was deployed to 3/12th Cavalry in Germany. He then returned to Fort Knox three years later for the Armor Officer Advanced Course. Finally, he reported to 1/10 Cavalry in Colorado before enrolling in Temple's graduate program in broadcasting.
Apt took advantage of a program that offered funding for officers who graduated at the top of their classes to attend graduate school. He was eager to apply to Temple because of the size of the Philadelphia media market. Apt had fond memories of covering football and baseball games at West Point, and they kindled his desire to earn a master's degree in broadcasting.
During one of his first classes at Temple, Apt met someone who worked for Prism Sports Network and helped him get a job.
"From day one, I was going to class and working at the Spectrum with Prism Sports, so I could write, produce, edit and everything else," Apt said.
Apt graduated from Temple in 1986 and travelled to Fort Monroe, Virginia, where he was put in charge of creating a video for soldiers, explaining the details of new policies. In 1990, Apt was promoted to chief of plans for his division during Operation Desert Storm.
"I had a great experience with that," Apt said. "Everything we decided to do was done, we pulled out and came back."
Upon his return from Iraq, Apt pursued his education and broadcasting experience. He requested that his Army fellowship be with CNN. At the time, CNN was the only news station that offered full-time coverage. Apt travelled to Atlanta, where he worked the domestic desk, the international desk, covered the Atlanta Braves and continued to write, produce and edit. During that time, he was promoted to lieutenant colonel.
Apt's educational pursuit continued, earning a master's degree in resourcing national security strategy and a minor in information operations at the Industrial College of the Armed Forces in Washington, D.C.
Following his promotion, Apt was sent to the Army Defense School, where he had the opportunity to mentor kids interested in furthering a broadcasting career in the army.
Then, from 1999 to 2000, he served as the director of public affairs in South Korea, where he directed internal and external media and helped coordinate programs between the United States and Seoul, South Korea.
As brigade commander, another one of his many positions, he was responsible for organizing military personnel and equipment and was on duty following the attacks on Sept. 11 in New York.
"That was high intensity and life-changing as far as how the military operates," he said.
In 2002, Apt began working for the Army Broadcasting Service (ABS) and helped grow the network from one channel to two, reaching millions of troops around the world each day. While working for ABS, Apt got a call from a four star general, asking Apt to work for him during Operation Rocky Freedom.
"My crowning jewel was being his chief of public affairs," Apt said.
Currently, Apt is the president of the Clearwater Chapter of the Military Officers Association of America. The organization works to ensure that active troops receive the resources they need and that veterans receive their benefits. The organization also helps retired veterans get back on their feet, find jobs, housing and get back into society.
Apt resides in Tampa, Florida with his family. He is happy to still be in touch with a lot of his friends from Temple, as well as from his time in the military. 
]]>