The Philadelphia chapter of AIGA, the professional association for design, hosts the Philadelphia Design Awards to recognize outstanding work by local designers every two years. Among this year's winners is Kathy Mueller, TYL '14, assistant professor in the Department of Advertising and Public Relations at Klein College of Media and Communication and owner of Kathy Mueller Design. Two of her submitted designs, Cocktails Against Cancer 10th Anniversary Commemorative Poster for the nonprofit Cocktails Against Cancer and Juice Cleanse Packaging for Sip-N-Glo Juicery, received recognition.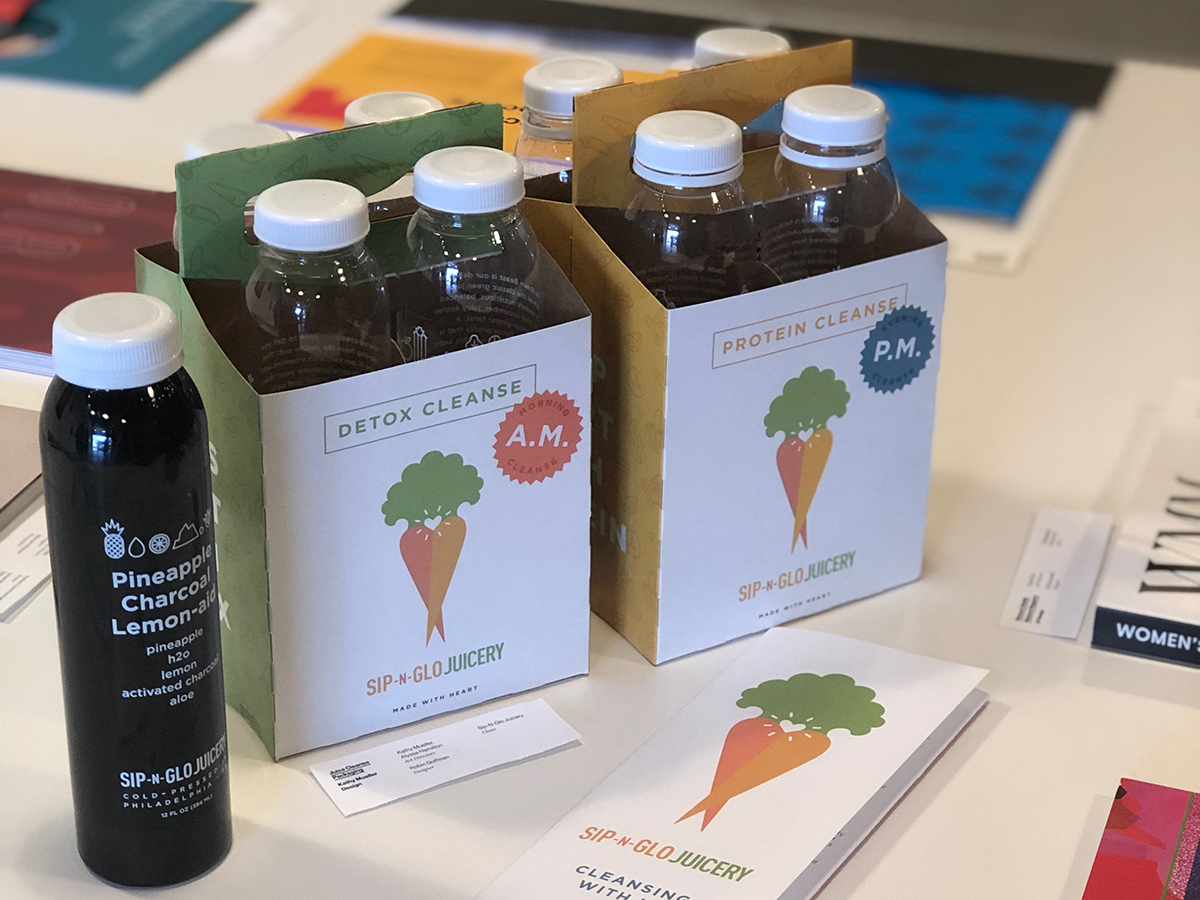 But she didn't do it alone. Robin Goffman, KLN '17, her former student and a graphic designer and photographer, served as a designer behind the Juice Cleanse Packaging project. Goffman's primary professional interest is in culinary design and branding, so when Sip-N-Glo reached out to Mueller as a potential client, Goffman was the obvious choice to join the branding team. 
"She was expressing her interests in her student work," Mueller says. "So she came to mind as someone with professionalism and talent, but also an interest in the subject matter."
Goffman says that their creative collaborations have led to new learning experiences and opportunities.
"I love [Mueller], I loved everything about her class," she says. "And I feel very fortunate that she gave me a few opportunities to work on some projects with her while I was still in school. I continued to ask her, 'Hey, do you need any help on anything?' And she kept taking me up on it. Our working relationship has just stuck."
Both Mueller and Goffman were involved in AIGA Philadelphia before winning the awards; Mueller has served as a board member and volunteer, and Goffman utilized her student membership to receive access to networking and lecture events. 
"AIGA is an organization that I care a lot about," Mueller says. "I hold it close to my heart. So to be recognized as a part of their competition is very personally fulfilling and makes me feel proud."
The awards reception, which included an exhibition, was held on June 8 at HUDDLE event venue. Though the exhibition is now closed, the awardees are acknowledged on the AIGA Philadelphia website. Mueller hopes that the work she does for future clients can be just as impactful as her winning designs.
"I'm looking forward to continuing to design work that I can feel exceptionally proud of my name being attached to."